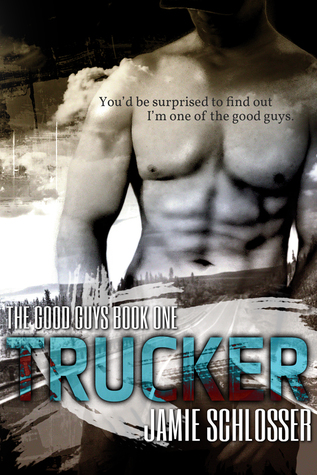 Synopsis:
ANGEL
I know what you're whispering in the car as you pass me by.
Hitchhiker.
When you see me walking along the side of the road with my thumb out, you'll probably keep driving without giving me a second glance. You probably think I'm foolish. Naïve.
You might assume I've made some bad decisions.
You might think I'm too young to be on my own.
You might be right.
TRAVIS
I love my job, but driving an eighteen-wheeler comes with a certain stereotype. When you hear I'm a trucker, a specific image might come to mind. Uneducated. Dirty. Perverted. Rough around the edges and a little bit dangerous.
But the truth is, I'm not any of those things. In fact, I'm pretty far from it.
You'd be surprised to find out I'm one of the good guys.
My Review:
5 out of 5 stars
Jamie Schlosser is a new author for me and I am SO glad I decided to read this book. I finished it in less than a day! That's how good it was. I'm not even sure I can express in words how much I loved this book. It's been a really long time since I was so engrossed in a book that I didn't even realize my kindle needed to be charged until the 'powering down' screen popped up. The characters were amazing (well, except a couple douchey ones, haha) and the story flowed perfectly. I loved Angel's character. I'd love to have a friend like her! She was sassy, quirky, funny, blunt, kind, awkward, and made no apologizes for who she was. Next up is Travis. That man is made up of all things SWOON! Oh, my heart. I just met my new #1 book boyfriend. Travis was charming, funny, sexy as hell, and just....swoon. I really enjoyed the chemistry and comfortable banter between Angel and Travis. They fell hard and fast but that worked for them. <3 I already have Dancer (The Good Guys #2) downloaded on my kindle and can't wait to dive into Colton's story.