This week I will be showing you 10 books that I've loved so far in 2017.
These are listed in the order that I read them.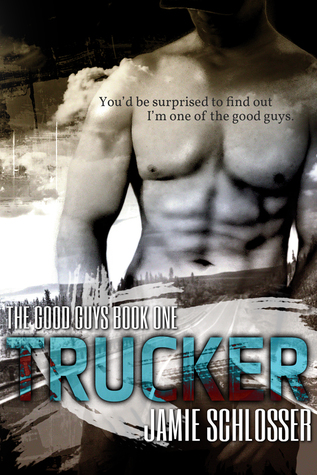 Trucker by Jamie Schlosser
ANGEL
I know what you're whispering in the car as you pass me by.
Hitchhiker.
When you see me walking along the side of the road with my thumb out, you'll probably keep driving without giving me a second glance. You probably think I'm foolish. Naïve.
You might assume I've made some bad decisions.
You might think I'm too young to be on my own.
You might be right.


TRAVIS
I love my job, but driving an eighteen-wheeler comes with a certain stereotype. When you hear I'm a trucker, a specific image might come to mind. Uneducated. Dirty. Perverted. Rough around the edges and a little bit dangerous.
But the truth is, I'm not any of those things. In fact, I'm pretty far from it.
You'd be surprised to find out I'm one of the good guys.


My Review (5 out of 5 stars)/Why I Loved It
Jamie Schlosser is a new author for me and I am SO glad I decided to read this book. I finished it in less than a day! That's how good it was. I'm not even sure I can express in words how much I loved this book. It's been a really long time since I was so engrossed in a book that I didn't even realize my kindle needed to be charged until the 'powering down' screen popped up. The characters were amazing (well, except a couple douchey ones, haha) and the story flowed perfectly. I loved Angel's character. I'd love to have a friend like her! She was sassy, quirky, funny, blunt, kind, awkward, and made no apologizes for who she was. Next up is Travis. That man is made up of all things SWOON! Oh, my heart. I just met my new #1 book boyfriend. Travis was charming, funny, sexy as hell, and just....swoon. I really enjoyed the chemistry and comfortable banter between Angel and Travis. They fell hard and fast but that worked for them. <3 I already have Dancer (The Good Guys #2) downloaded on my kindle and can't wait to dive into Colton's story.
Mallory Sims is late for her first day of work.
After spilling her tea, she discovers she has no gas in her car. Add that her arm keeps sticking to her dress from syrup left on the console of her car, flustered feels like an understatement.
Then she sees her new boss.
Graham Landry is the epitome of NSFW in his custom-fit suit, black-rimmed glasses, and a look so stern her libido doesn't stand a chance. Being flustered is just the start of her problems.
Her punctuality is only the start of his. With a pink slip in hand, he's been waiting on his new secretary to show up only to let her go. Then she rushes in with her doe eyes and rambling excuses, smelling like bacon and lavender. The termination paper falls to the side as she falls in his arms.
This is a disaster in the making. Not because of his pinpoint exactness or her free spirit, but because when they're together, the sparks that fly threaten to burn the whole place down.
My Review (5 out of 5 stars)/Why I Loved It
I've come to love the Landry family series a little bit more with each new book. Mallory and Graham are such an interesting pair. She is the mess to his organization, the sass to his serious, but they compliment each other perfectly despite their differences. They are exactly what the other one needs. My heart broke for Graham for the hurt he was put through in his past. The same goes for Mallory. I also loved getting updates and glimpses into the other Landry siblings and what is to come for them. I'm super excited for Ford's book to come out.

Death in Advertising by Laura Bradford
When Tobi Tobias decided to open her own ad agency, having to moonlight in a pet shop wasn't part of her vision . . . of course, neither was murder.
Sometimes when opportunity knocks, the door you open leads to a closet. That's certainly the case for Tobi, whose weekends spent cleaning cages in her best friend's pet shop may soon be over. She's just landed her first big break—Zander Closet Company needs a catchy campaign slogan ASAP, and Tobi thinks she's got the right hook to knock 'em dead: "When we're done, even your skeletons will have a place."
But when a real dead body topples out of a showcase closet, she's about to discover there
is
such a thing as bad publicity. To save her fledgling business and not get killed by the competition, Tobi takes on a new pet project: solving the murder. But with a stressed-out parrot as the only witness to the crime, Tobi will really have to wing it to put the cagey killer behind bars.
My Review (5 out of 5 stars)/Why I Loved It
Death in Advertising was my first book by Laura Bradford but I am certain it will NOT be my last. I'm definitely going to be reading her other books. I absolutely loved this book! This is a very promising and wonderful start to this series. The author has created a wonderful cast of characters that I'm hoping will continue to make appearances in later books in the series. I really enjoyed Tobi's character. I found myself laughing out loud at a lot of her inner dialogue. She is such a fun person and is very easy to relate to. I picture Tobi as someone that I could definitely be friends with. She has a wonderful support system in her friends and grandfather. I really liked seeing her relationships with those people. Andy is another character that I liked a lot and am hoping (fingers crossed) things go well and we'll see him in future books. The mystery surrounding the murder really drew me in. You definitely learn while reading this book that things aren't always as they appear to be and you shouldn't make assumptions. There were a few different suspects to choose from and the killer ended up being someone that I wouldn't have suspected at all. Everything was explained in a way that made sense and the background storylines were wrapped up as well. I'm so glad I decided to read this book. I've found a new go-to author for mysteries.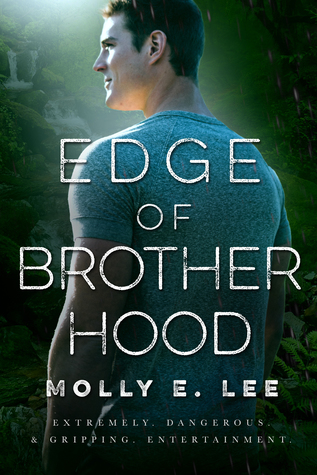 Edge of Brotherhood by Molly E. Lee
What do Dash Lexington, Easton Wells, and Connell Murphey have in common?
They put their lives on the line each day they clock into work. That and their fierce love for the women who match them step for step.
When the studio head who produces both Dash and Easton's shows announces auditions for a special series to highlight the E.D.G.E men's skills, Connell and an extreme stunt man named Wade Roberts are the first stars chosen.
Their objective? Accompany Easton deep in the Amazon where he's recently discovered the lost city of Paititi. With half the structure submerged in dangerous waters, a slew of unpredictable rainforest storms, and a nearly inaccessible location, each man will have to put aside his alpha tendencies and utilize his skills in order to survive the perils of the City of Gold.
But when an enemy from Easton's past threatens the love of his life, she is met with the wrath of the newly formed E.D.G.E. clan, who will stop at nothing to protect the women they love.
My Review (5 out of 5 stars)/Why I Loved It:
Absolute perfection is how I would describe this story. Molly is a genius, plain and simple. I've loved all of the books in the Love on the Edge series. Each guy is unique and has their own skill set along with an awesome woman by their side. Now, to bring them all together on this adventure is just... wow. The setting is described in such great detail that you feel like you are right there with the characters as everything is happening. Molly has an incredible talent with words and painting the picture for the reader. It's really amazing how she's able to do that. I finished the book a little while ago and my mind is still reeling from everything that happened. You've got sassy and strong females, alpha males who will do anything for their women and each other, danger, excitement, suspense, mystery, and the twist that you will never see coming. Absolutely amazing. This will without a doubt go down as one of my top reads for this year, maybe even ever. Wade is going to the top of my list of favorite book boyfriends. He's funny, sarcastic, and has a skill set a mile long! I really enjoyed his addition to the E.D.G.E men and what they have to offer.
Dropout by Jamie Schlosser
JIMMY
Over the past year, I've been called a lot of things. Slacker. Troublemaker. Party animal.
I thought I was on top of the world. Turns out, I was pretty close to rock bottom.
Now I have a new title: college dropout.
Talk about a reality check.
But I've got a chance to redeem myself. One summer to turn things around. Two months to prove I'm not a complete f*ck-up.
It's time to change.
I want to get back to being one of the good guys.


I have everything I need to live out my dream of being a reclusive songwriter—my guitar, my notebook, and blissful silence.
At least, I did until Jimmy moved in next door.
With tattoos, piercings, and mischievous green eyes, he's got bad news written all over him. And last time I got with a bad boy, it ended horribly.
Jimmy makes me feel things I shouldn't feel. Want things I shouldn't want. He's a hazard to my carefully laid plans.
But he's only here for two months.
I can resist him...right?
My Review (5 out of 5 stars)/Why I Loved It:
I've loved all the books in this series and I loved this one as well. The characters and the town are described in such a way you really feel like you know these people, like they're your friends, too. I love that about these books. Jimmy and Mackenna are absolute perfection. They had chemistry right from the start and you can't help but root for these two. I really admire the fact that Jimmy owned up to the mistakes that he made while at college and was willing to do whatever was needed to make things right. My heart broke for Mackenna and what she went through in the past with her ex. She was incredibly strong though and I enjoyed seeing her growth throughout the book. I also loved that we got to catch up with the characters from the previous books in the series. I hope there will be more books to come in the future! I just can't get enough of these characters and the town they live in.
Out of the Ashes by RC Boldt
Phoenix /fēniks/: (in classical mythology) a unique bird inhabiting the Arabian Desert that burned itself on a funeral pyre before rising from the ashes with renewed youth to live through another cycle.
This isn't mythology, it's war, and Hendy is left in the hands of Hell's cruelest gatekeepers.
His team is killed before his very eyes, and despite his efforts to save them, he's captured and subjected to merciless torture—losing virtually every piece of his identity but his pulse.
After his rescue, he returns home from Afghanistan, saddled with facing the daunting task of healing his physical scars as well as the invisible ones—his emotional demons.
Dr. Presley Cole isn't one to shy away from a challenge. Embarking on a new journey, she makes it her mission to prove to Hendy that his life isn't over; that he's worthy of love.
Because sometimes even a phoenix needs help to rise…
My Review (5 out of 5 stars)/Why I Loved It
I'll tell you what, I love this author more and more with each book she releases. She knows how to tell a story and has created a wonderful cast of characters that feel like they're your friends, like you really know them. I really don't know what I'm going to do when all of their stories have been told. My heart broke for Hendy so many times. He was a broken man and not just physically, but emotionally as well. It killed me that he felt like he wasn't deserving of love and that no one would be able to love him because of his appearance. Presley is an amazing character. I love how she was able to show Hendy that he *was* deserving of love. Hendy's journey to healing wasn't an easy one at all but it was necessary for him to be able to move on.

There is an element of suspense in this book that keeps the pages turning quickly so you can find out what is going on.

I love that we got to see some other characters from previous books as well, like Kane (my personal favorite ;)), Foster, and Noelle. Let me tell you something. These friends may pick with each other and give each other a hard time sometimes, but it is all done in love and when one of their friends is down, they rally together to show them the love and the support that they need. The friendship that these characters share is really special and heartwarming.
Ellie Pagan has a list of reasons to stay away from Ford Landry.
It's a mile long and was so much easier to stick to when he was a world away. Now that he's standing in front of her—body hard and chiseled from a stint in the military, suit cut to perfection, and a smirk she could never resist—remembering all the reasons why just got a whole lot harder.
Ford gets Ellie isn't his biggest fan. He just doesn't care.
Standing in front of him, giving him hell, she's even prettier than he remembered. All he can think about is how she felt in his arms, the taste of her kiss, the sound of her giggle in the middle of the night. He may not know how to win her back, but he does know this: he may have let her go once, but that's one mistake he won't make again.
My Review (5 out of 5 stars)/Why I Loved It:
I love second chance romances so much. There's just something about having that lost love back in the picture that has you rooting for the couple to reconnect. This book made me laugh, cry, and swoon.
I love, love, love Ford and Ellie. Their chemistry is off the charts and you can just tell they are made for each other. Ford is so sweet and caring. I think he is my new favorite Landry brother. I loved Ellie's character as well.
I don't think I'll ever get enough of the Landry family. I love the scenes with the siblings and when the whole family is together. There is so much love and loyalty in that family. I'm so excited and can't wait for Camilla and Sienna's stories.
Edge of Regret by Molly E Lee
Leading man on the new E.D.G.E. series reality show? Check.
Stunt-double for the star in the latest, multi-million-dollar funded military movie? Check.
Work with a sexy female military expert? Holy hell, check.
When I signed on to do stunts for Hollywood's eagerly awaited war-thriller, I thought it would be like every other gig—go in, try not to get killed, and leave with a fat check and an adrenaline rush. This time? Not so much.
Mackenzie Patterson is the on-set expert. She knows topographical layouts, government lingo, speaks four languages, and is one of the best explosive disposal leaders the Air Force has ever seen, so she's more than qualified.
She's also the woman who turned my teenage heart to ash.
I can't ignore the darkness that has appeared in her eyes, or the urge I have to take it away.
Quitting isn't an option, but the more I see her, the more I want to make her mine. And that can never happen because our past is twisted with heartbreak, hate, and regret.
Every second I spend with her is a battle between holding on to the anger in my heart—and giving in to the love that never left.
My Review (5 out of 5 stars)/Why I Loved It:
I fell in love with the funny and sexy stuntman Wade when we met him in Edge of Brotherhood. His humor and charm just draw you in and it's impossible not to fall for him, so I was so excited that he would be getting his own story.

My heart broke for Wade as he struggled with the pain and guilt from the loss he suffered years earlier. My heart also broke for Mackenzie as she wrestled with her own pain and guilt as well as severe PTSD. I found myself trying to will Mackenzie to let Wade in so that he could help her. Wade was just absolute perfection. He knew exactly what Mackenzie needed and did everything in his power to help her.

This book made me cry, laugh (I'll never get enough of Wade's jokes), and swoon. Each of the books in the EDGE series is such a different experience from the last one, and this one followed right along with that. I love that you never know what to expect with Molly's books. Although one thing is certain with this series...you'll be taken on the adventure of a lifetime.
Family isn't always defined by blood.
Sometimes family is born of love…
Loyalty…
And choice.
Sometimes the bond that comes from someone having your back through the shittiest of times is stronger than anything you get from genetics.
And sometimes you find that piece of your soul you didn't even know was missing.
I'm a lucky guy like that.
I found a love that will never fade. I found a group of people who aren't just my friends.
They've become my family.
There's only one place to go from here.
I'm gonna bind myself to Rimmel in every possible way.
I'm gonna bring our family even closer together.
The past has taught me it won't be easy.
Especially when faced with repercussions from a night that ended in death.
But that's okay.
Family doesn't quit each other.
Love like ours never dies.
Happily ever after isn't just for storybooks.
My Review (5 out of 5 stars)/Why I Loved It:
Right now I honestly feel like there aren't any words that I could possibly use to describe what this book (and this series) means to me and to describe how amazing it really is. Cambria has completely brought these characters to life for me. I feel like these are really people that I know in real life, that I could call friends. Each character has their own special unique qualities but the thing they all share in common is their love and loyalty to their family. It knows no bounds and is an absolutely amazing thing to read about.
This book made me feel so many different things. It broke my heart and then put it back together again in the most wonderful way possible. I couldn't have asked for a better ending. I'm already ready to jump into the next book.
That's what happens when you get married.
Right?
Turns out sparkly rings, cake and a fantastic wedding do not automatically grant you that, not even when it's all you truly want.
I'm even starting to doubt the bottomless, unconditional love I share with the man I married will be enough.
I can't have happily ever after, know why?
Because I can't give Romeo what he truly wants. I've tried. So hard. I won't be happy unless he is and something is missing. Someone.
Paparazzi are in my face. The flashing cameras and prying eyes are everywhere. My secret is getting harder to hide, and I know the second the scoop is dished the grip I have on the fraying rope of that happily ever after will snap right in my face.
In our face.
I can't let that happen. No matter what.
Because with or without a happy ending, Romeo comes Before Anyone Else.
My Review (5 out of 5 stars)/Why I Loved It:
I'm sitting here right now with tears streaming down my face. Not because the story had a sad ending or anything, but because I've come to love these characters so much, watched everything they've had to go through (both good and bad), and am sad to see it come to an end. This will without a doubt go down as one of my top favorite series EVER. Cambria has brought these characters to life in such an amazing way. I couldn't have asked for a more perfect ending for Romeo and Rimmel. This was absolutely perfect!

One thing that was interesting to me about this book is that it gives you a small idea about what celebrities go through all the time in dealing with the paparazzi. It's really disgusting what some people will do to make some money and to get the story they want to put out there, whether it's the truth or not. I'll admit I fist pumped the air when an example was made out of certain people and they got what was coming to them.

I cried a few times while reading this book, but there was also so many moments of great love, support, friendship, family, and loyalty that was so heartwarming. I really couldn't have asked for anything better.

Now? I'll be making my way through the GearShark series because Trent and Drew have really grown on me and I'm super excited to jump into their story.

*****************************************************
Have you read any of these books? What books have you loved this year?